WHAT IS TUI-NA (CHINESE MEDICAL MASSAGE)?
Tui-na is a form of Chinese Medical massage, developed over 2,000 years ago, that uses the same theory of energetic "channels" or "meridians" as acupuncture. Tui-na is one of the five branches of TCM. It involves the stimulation of acupuncture points and channels together with stretching and manipulation of limbs. By restoring balance, Tui-na supports the body's natural functions to combat excess or deficient conditions as needed. It keeps the Qi and blood moving freely, strengthens tendons/ligaments and muscles, promotes normal function, and eliminates fatigue.
HOW DOES TUI-NA AFFECT QI?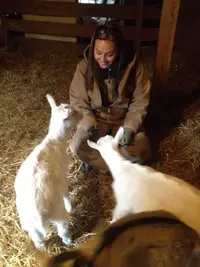 In Chinese medicine, Qi is collectively referred to as the vital energies of the body. Qi and Blood stagnation (lack of movement) can result in pain, stiffness, emotional stress, anger, frustration, depression, various organ diseases, and masses. Through many types of body manipulation, Tui-na seeks to move Qi and/or Blood to relieve pain. Since excess emotions and life stresses can also affect Qi flow, one can achieve emotional and physical balance and provide rest and relaxation for the patient by restoring the free flow of Qi. Tui-na is often used along with acupuncture or chiropractic treatment to help enhance the overall treatment outcome. Tui-na can help adjustments hold better, as well as provide pain relief for areas of local soreness/stagnation. Tui-na homework may be given to owners so they can continue treatment at home or at the barn in between scheduled appointments. Tui-na is well tolerated and enjoyed by most patients, large and small.
WHAT CAN TUI-NA BE USED TO TREAT?
Musculoskeletal conditions (IVDD, muscle pain, hoof pain, laminitis, cervical pain, osteoarthritis, tendonitis)
Internal medicine disorders (asthma, COPD, anxiety, seizures)
Geriatric conditions (stiffness, hindend weakness, neurologic deficits)
Pediatric disease (tendon contracture, diarrhea, neurologic issues)
Disease prevention
Performance enhancement