WHAT IS ANIMAL CHIROPRACTIC/VETERINARY SPINAL MANIPULATION THERAPY?
Animal chiropractic is a complete evaluation of the animal's spine with chiropractic adjustments made where needed.
Chiropractic care involves the relationship between the nervous system and the spinal column and the critical role this relationship has in the maintenance of overall health. The nervous system is responsible for initiating and coordinating all signals of movement by stimulating the muscles that are attached to the skeletal system.

Anything adversely affecting the nervous system will have detrimental effects that will resonate throughout the entire body. The command centers of the nervous system are the brain and spinal cord which are protected by the spine. The spine is a complex framework of bones (vertebra), ligaments, muscles and nerves. If the movement and biomechanics of the vertebra become dysfunctional (also referred to as misalignment or "subluxation"), it can interfere with the performance of the nerves that are branching off of the spinal cord and going to the all of the muscles and organs. As this occurs, your animal can lose normal mobility; resulting in stiffness, tension, pain, and even organ dysfunction. Additionally, when normal movement is affected, and left unattended, it will ultimately impact your animal's entire well being and quality of life.
WHAT IS A CHIROPRACTIC ADJUSTMENT?
A chiropractic adjustment or spinal manipulation is a low amplitude, high velocity thrust that is directed at a specific articulation to correct a vertebral subluxation. Chiropractic medicine is designed to stimulate a natural healing response and return the body to homeostasis as quickly as possible without harmful side effects.

WHAT ISSUES CAN ANIMAL CHIROPRACTIC/VETERINARY SPINAL MANIPULATION THERAPY BE USED TO TREAT?
Gait Abnormalities
Abnormal weight bearing
Neck, back, leg, and tail pain
Muscle spasms, muscle atrophy, and nerve problems
Maintenance of joint and spinal health
Unexplained lameness
Difficulty chewing/jaw issues
Degenerative arthritis
Performance enhancement
Prevention of disease
Osteoarthritis relief
WHO BENEFITS FROM ANIMAL CHIROPRACTIC/VETERINARY SPINAL MANIPULATION?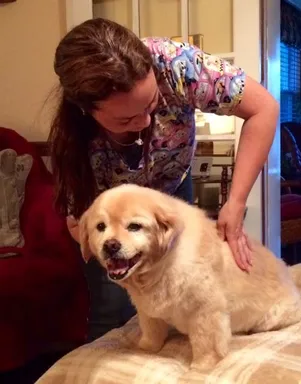 Any animal who runs, jumps, plays, or participates in athletic activity may benefit from chiropractic care. An animal that is less active, has more stiffness/soreness, or has a decrease in overall mobility may also benefit from chiropractic treatment. As animals get older, they can develop reduced mobility with secondary muscle soreness, gait changes, reduced athletic performance, and reduced overall comfort. With horses, the demands of athletic performance under saddle including going over fences, barrel racing, as well as saddle fit, hoof balance, and suboptimal footing can all create potential opportunities for injury and soreness. Horses may express pain in a variety of ways including attitude/behavioral issues, gait abnormalities, reduced flexion, overt lameness, reluctance to move forward, difficulty with a particular lead and/or lead change, jump refusals, bucking under saddle, and pain upon palpation.
While chiropractic evaluations should be conducted in conjunction with wellness and lameness evaluations, adjustments may be used to improve a horse's soundness and total body comfort as well as used proactively to avoid or minimize dysfunction of the nervous and musculoskeletal systems.
WHY CHOOSE ANIMAL CHIROPRACTIC CARE?
Anima Chiropractic has the ability to non-invasively treat and prevent issues arising from spinal hypomobility. While chiropractic care should always be conducted in the context of a complete veterinary evaluation, it can be utilized to maximize and then maintain the health of the vertebral system and the musculoskeletal and nervous systems it impacts.
HOW OFTEN ARE ADJUSTMENTS PERFORMED?
The number and frequency of adjustments is determined by the disease or condition being treated, the age of the animal, and the species of animal. Many acute conditions may only require 2-3 treatments, whereas chronic conditions may need monthly adjustments. Typically, it may be recommended that your pet be adjusted 2-3 times at 2 to 4 week intervals, then maintenance as needed. An example of a preventative health maintenance schedule would be treatment every 4-6 weeks.
WHAT CAN ONE EXPECT AFTER AN ADJUSTMENT IS PERFORMED?
Many animals will show immediate improvement, while others may require a few adjustments in order to improve range of motion and resolve symptoms of pain. Ensuring adequate water intake is recommended as well to promote hydration and normal cellular metabolism. Some animals may become tired for short periods of time after an adjustment. If something arises during an appointment that requires further diagnostics and/or treatment (i.e. radiographs), clients are referred back to their primary care veterinarian.
Chiropractic, Acupuncture, laser therapy, and BEMER PEMF treatment modalities complement each other and are often incorporated together as part of a comprehensive treatment plan.
*For our equine patients, it is recommended to give your horse 24-48 hours off, then light riding only for several days before resuming a normal work load. If your horse is sensitive to hoof trims and/or vaccines, it is recommended to schedule these appointments at least 1 week apart from integrative treatment so that your horse receives the full benefit of treatment(s).