What is the BEMER HORSE-SET?
Bemer uses PEMF technology to deliver the patented BEMER SIGNAL (waveform) into the body. It works from the inside out and regulates the horse's body on the cellular level where the horse's metabolic processes take place – cells in every part of their body (organs, bones, tissue and skin) are supplied with nutrients through increased blood flow and oxygen that enables them to fulfill their tasks- and metabolic waste products are removed for disposal. Put simply, healthy microcirculation is essential to your horse's all-around well-being.
What does BEMER do for my horse?
Improves microcirculation & vasomation

Increases oxygen, and nutrient absorption

Faster removal of waste disposal in the cells and body

Promotes regeneration

Increased physical fitness, endurance, strength and energy

Helps improve suppleness

Prevents and increases defense against infection

Speeds up recovery process after injury or surgery

Stress reduction and regulation of the nervous system
BEMER is scientifically proven with no negative side effects, non-invasive, and safe to use. As a result, the horse's body can work more efficiently to heal itself, and feel more energetic. Furthermore, BEMER is an FEI approved supportive therapy.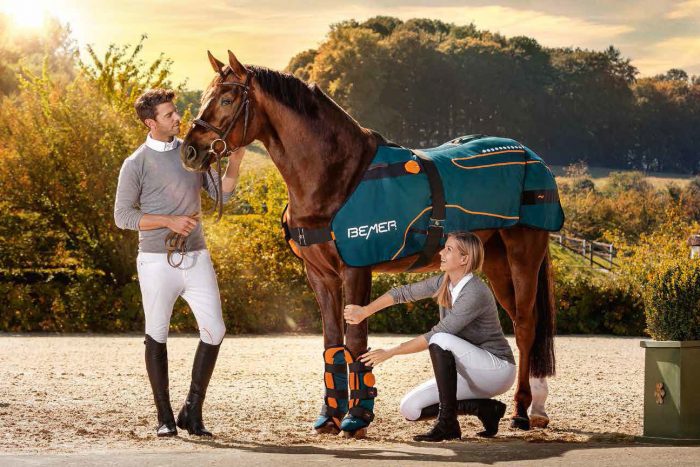 The horse blanket in the BEMER Horse-Set is ideal for large-scale applications. It ensures that the BEMER signal field reaches all neuralgic points on the animal's body. The horse blanket is ergonomically designed, equipped with breathable inserts and can be easily adjusted to fit horses of any size thanks to the simple adjustment mechanism. The integrated combined battery and signal controller is powerful and positioned so that it can easily be reached by humans – but not by horses. Additional, effective components of the Horse Set are the two cuffs (one each for left and right), which feature an integrated combined battery and signal controller and can be used on the front or back legs. They generate a stronger, concentrated signal field for localized treatment. The BEMER Horse-Set is rounded off with a practical carrying case, a sweat blanket and a charger with Y-cable for simultaneous charging of two controllers – a set of international adapters is included.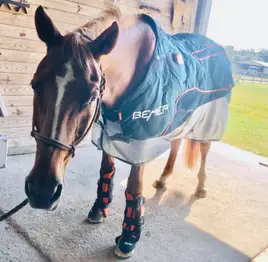 Dr. Theisen is an Independent BEMER Distributer. If you are interested in learning more about BEMER, or purchasing a HORSE or HUMAN SET, please contact her directly and/or visit the following link:

https://shop.bemergroup.com/en_US/home?partner=integrativehealingveterinaryclinic
BEMER FOR HUMANS
Many physical discomforts are directly related to poor blood circulation, which may lead to dysfunctional metabolic processes and inhibit optimal health & well-being, as well as performance and recovery. BEMER can improve your circulation naturally in just 8 minutes twice a day. BEMER is an FDA class II cleared medical device and is changing the way we think about our health, challenging our understanding of the human body, and empowering us to reach optimal physical condition in a natural, non-invasive way. For more than 20 years the benefits of BEMER have impacted millions of people around the world, including Top Level Athletes.
In addition to successful published medical studies, industry praise, patents, and awards, BEMER was also chosen as a cooperative partner for NASA. By integrating BEMER technology into human space flight and assisting in the development of undergarments that are designed to promote functional blood circulation and countermeasures for muscle and bone degeneration on Earth and in space.
BEMER Therapy can enhance*:
Nutrient & Oxygen Delivery

Local Blood Flow

Waste Removal

Muscle Conditioning

Performance

Physical Fitness

Muscular Strength

Endurance & Energy

Vitality & Well-being
Stress Reduction & Relaxation
Sleep Management
BEMER Editions offer everything you need to get started. Each BEMER Edition includes the B.BOX and a selection of accessories for various situations, allowing you to customize your BEMER experience to your lifestyle. Extra applicators and accessories to add to your edition are available for purchase.
*BEMER does not provide any medical advice or services. This device is not intended to diagnose, treat, cure or prevent any disease. It should not be used for any purpose other than as described in the user manual. Please consult your own healthcare provider if you have any medical issues.