WHAT IS LASER THERAPY?
Laser therapy is a completely pain-free, non-invasive technique that uses various wavelengths of light to stimulate healing of the body and provide relief of pain. Laser therapy has been used for over 25 years and numerous scientific research publications support its efficacy. The lasers used therapeutically are known as "cold" or "low level" lasers as they do not heat the tissue or damage it.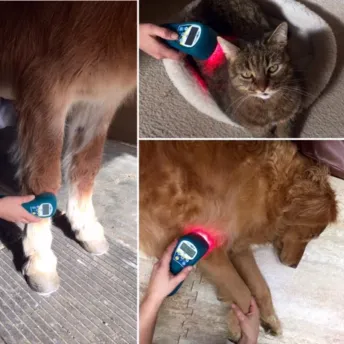 Laser therapy is the use of a laser directly on an area of pain or injury to relieve pain and stimulate healing. The light produced by a therapeutic laser penetrates the cells and has been shown to have the following effects:
* Increases blood circulation
* Reduces pain
* Reduces edema (swelling)
* Reduces fibrous tissue and scarring
* Increases cellular metabolic activity
* Improves nerve function
* Improves and speeds wound healing
Laser therapy provides accelerated pain relief and healing. It also is beneficial in managing wounds and dermatological abnormalities including hot spots, lick granulomas, otitis externa, pyoderma, and healing of surgical incisions. If there is infection, blue light therapy can be used to reduce the bacterial load and minimize the need for anti-microbial therapy. Finally, laser therapy can speed healing by decreasing pain and inflammation and promote blood flow to the affected areas. This safe and powerful technology is applied with a cordless hand-held applicator providing targeted Super Pulsed Laser light that stimulates cell regeneration. Throughout the world, low level Laser Therapy is used to relieve acute/chronic pain, back pain, carpal tunnel, arthritis pain, fibromyalgia, tennis elbow, muscle strain, bursitis, tendonitis, and other injuries in humans. This same safe and effective technology is now being applied to all aspects of Veterinary care.
WHEN IS LASER TREATMENT INDICATED?
Arthritis
Neck & back pain
Tendon & ligament injuries, including cruciate ligament (CCL), bowed tendon, suspensory desmitis
Hip/elbow dysplasia
Spinal disc problems, Intervertebral Disc Disease (IVDD)
Fractures
Dermatitis, hot spots, lick granulomas (skin inflammation)
Otitis (ear infection)
Quarter cracks
Non-healing wounds
Post surgically to speed up healing and recovery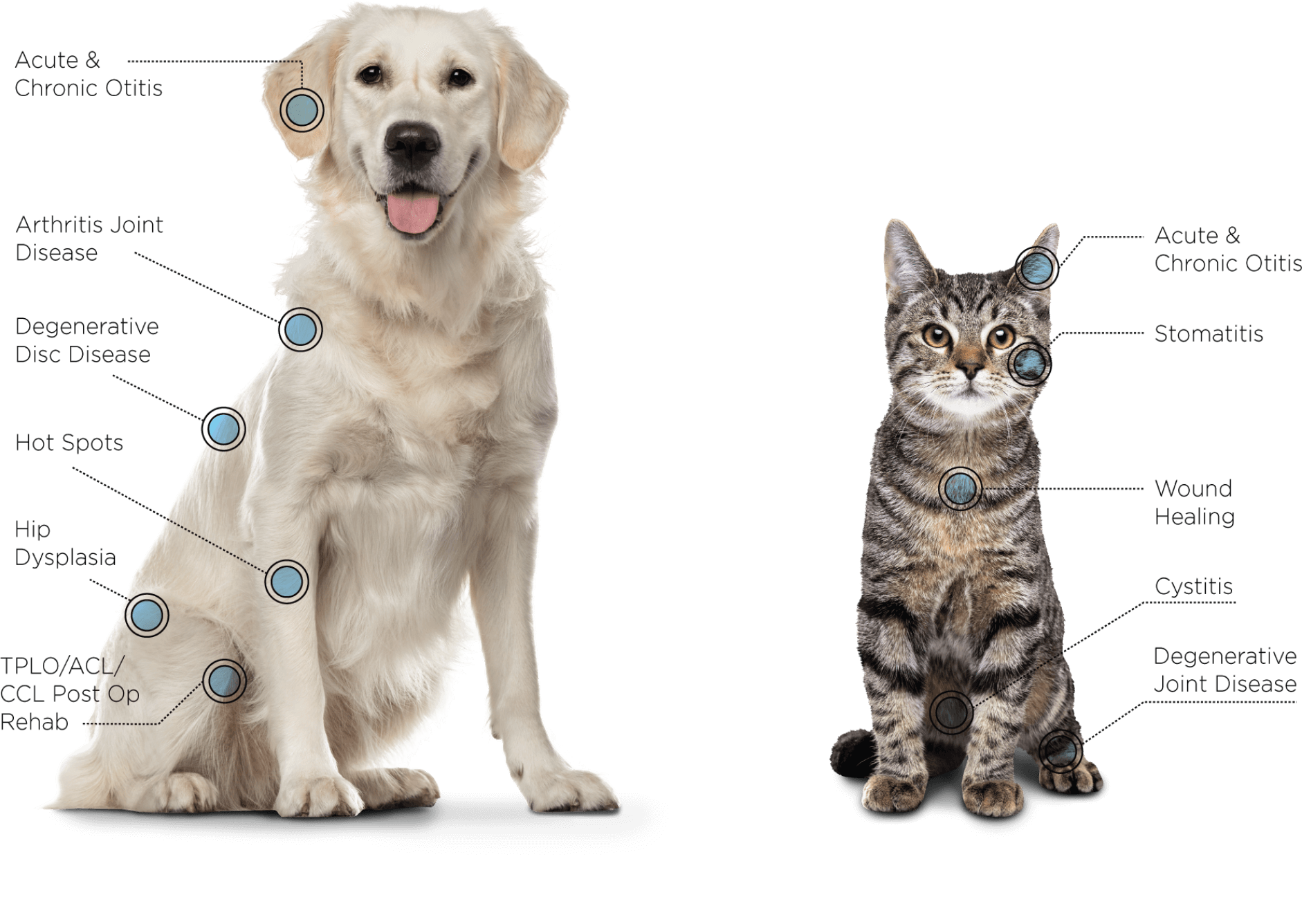 HOW CAN MY PET BENEFIT FROM LOW-LEVEL LASER THERAPY?
If your pet has sustained an injury, undergone orthopedic surgery, or suffers from arthritis or other painful conditions, they may be a candidate for low-level laser therapy. The low-level laser not only speeds the healing process but affects the overall quality of the repaired tissue. Muscle, tendon and ligament injuries require increased collagen production for successful healing and the low-level laser stimulates this function. The light also increases vascular growth and dilation for improved circulation in pets that may have limited movement. Pets experiencing pain from their condition may find relief from cold laser treatments. The biochemical effect of the low-level laser boosts the body's production of endorphins. Low-level laser therapy is another great way to treat the source of the pain, thereby making it less likely that your pet will need additional pain reducing medication
HOW LONG DOES EACH TREATMENT TAKE?

The typical treatment duration is 5-15 minutes depending on the size of the area involved and the condition being treated.
HOW OFTEN SHOULD MY PET OR HORSE BE TREATED?

Acute conditions may be treated 2-3 times per week for 2 weeks, then once per week, then adjusted accordingly depending on the animal's response.
HOW MANY TREATMENTS DOES IT TAKE?
For some acute conditions, 1-6 treatments may suffice. Those of a more chronic nature may require 10-12 treatments. Conditions such as severe arthritis may require ongoing periodic care to control inflammation and pain symptoms.
HOW LONG BEFORE RESULTS ARE FELT?
You will typically notice improvement in your pet's pain symptoms within the first couple of treatments, sometimes immediately depending on the issue being treated. Laser works at the cellular level and is very effective for promoting rapid healing. Laser therapy can help eliminate your pet's need for surgery or pain medication.

CAN LOW-LEVEL LASER THERAPY BE COMBINED WITH OTHER TYPES OF VETERINARY MEDICINE?
Yes! Because low-level laser decreases pain and enhances circulation, laser therapy is often used in conjunction with other forms of therapy to enhance the benefits of those therapies. In general, low-level laser therapy integrates well into a treatment plan that utilizes either traditional or alternative forms of veterinary medicine.
WHAT IS LASER ACUPUNCTURE?
Laser acupuncture is the ability to use a laser to stimulate acupuncture points. This completely avoids the need to use needles, which is great for animals that will not tolerate any type of needles. Some animals may experience a very slight tingling sensation, but most will feel only very gentle pressure from the laser tip on the skin. Scientific research has shown that just as when needles are used to stimulate acupuncture points, there are measurable changes in the brain when a laser is used to stimulate acupuncture points. Another advantage of laser acupuncture is the ability to stimulate points where needles are not generally very well tolerated. For example, many dogs (and especially cats) do not like having their feet touched. Needle placement is also difficult here as there is not much soft tissue in which to place a needle. Laser stimulation of these points is quick and does not cause discomfort, enabling animals to receive a more complete treatment than would be possible with needles alone.
IS LOW LEVEL LASER TECHNOLOGY SCIENTIFICALLY WELL DOCUMENTED?
There are more than 120 double-blind positive studies confirming the clinical effects of laser technology. More than 300 research reports have been published. There are over 300 dental studies alone. More than 90% of these studies verify the clinical value of using laser technology. A review of negative results shows that low dosage was the single most significant factor. By dosage is meant the light energy delivered to a given unit area during treatment. The energy is measured in joules and the area in cm2. Assuming that the power of the laser remains constant during the treatment, the energy of the light will be equal to the power in watts multiplied by the time in seconds during which the light is emitted. Therefore, a laser with more power (watts) can deliver the same amount of energy (joules) in less time. A pulsed laser with more average power (watts) can deliver the same amount of energy (joules) in less time and at deeper target tissues than a continuous wave laser.